Life is complicated enough. Why bring more drama into your makeup routine? In the morning, I like to spend whatever time I have either getting a workout in, working on my blog, straightening up around the house, or doing some reading before I have to get ready for work. When it's time to get ready for the day, I have zero time (and patience) for a full on makeup look. I love products that are multi-use and effective for this very reason. Bonus points if said products last all day! I'm breaking down my go-to everyday makeup products for you. I hope that if you find yourself looking to simplify your morning routine or in need of some everyday products that last, these suggestions will make your life easier!
Cleanse, Tone, Moisturize, Repeat
Ok, I know I promised everyday makeup, but a good makeup look starts with clean, moisturized skin. Lately, I've been loving starting my morning with a Vitamin-C facial cleanser. I feel like the Vitamin C wakes my skin up and gives me a nice glow to start the day. I've also been sampling some amazing skincare products from Beauty Counter, but those deserve their own blog post (more to come!) So, here is an easy to follow morning routine:
Cleanse skin with warm water. I like to rub the cleanser in with my fingertips, then take a round cotton exfoliant pad and really get it in there. I pat my face dry with a cotton pad afterwards instead of a towel because….bacteria (a little trick  my aesthetician thought me)
Tone it up. I have been using Dickinson's Original Hazel Pore Perfecting Toner. I swipe little around my t-zone and chin area.
Vitamin C for the glow! To finish my morning skincare off, I apply some Vitamin C Serum, topped with a Vitamin C moisturizing cream. I have been using IMAGE Skincare's Vital C line, which I LOVE (and it smells like an orange creamsicle). I've also linked some other favorite I've tried in the past below. I also make sure to use a little moisturizer with SPF before applying my makeup!
Morning Skincare Favorites – shop my favorites to give yourself a nice glow each morning!
Put Your Best Face Forward
Okay, back to our regular scheduled programming…everyday makeup. It would be nice to have the patience (and the time) to put on an immaculately made up face but that just is not me. These are my go to, all star lineup for a quick (but semi put together) look.
Foundation
A good foundation is to your makeup like it is to a house, the building block, the start…without it there is nothing. Ok, maybe that's a little dramatic but seriously, a good foundation can help cover imperfections, smooth out your skin appearance and act as a nice base for any blush or highlighters. For my everyday makeup, I opt for a sheer foundation with some SPF, because ya gotta protect that skin! I'm a firm believer in BareMinerals foundations. From powder to liquid, I have been able to find a foundation of theirs that works for my needs. For lighter coverage days, I swear by the bareMinerals Complexion Rescue Tinted Moisturizers –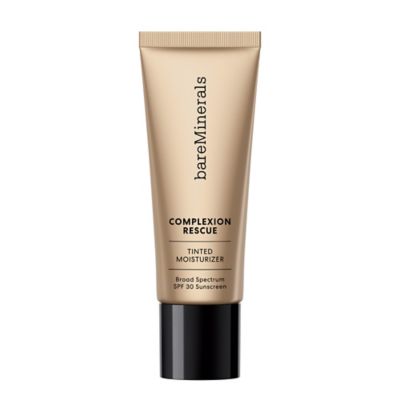 Hydrating Gel Cream
. This foundation offers a light feel but amazing coverage. A little bit of this stuff goes a long way and it blends so flawlessly. Added bonus, it has SPF! 
On days (or nights) when I need a little extra oomph, I opt for the  bareSkin Pure Brightening Serum Foundation Liquid Foundation
.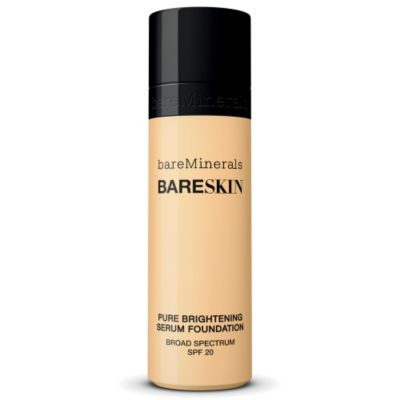 This foundation has a thicker coverage but is still light enough where you won't feel like you have a mask on. I like to blend this foundation in with a brush…and again a little bit is all you need!
With any of these foundations, Ioften top them with the bareSkin Perfecting Veil
 as a nice way to blend and seal everything together.
Those Cheekbones! A Natural Looking Bronze, Highlight, Blush…
As much as I am a fan of Kim K's ability to contour her face into oblivion, that look just is not something I have the time, or patience for everyday. There's a much easier (and natural looking) way to get that highlighted, glowy look we're all after.
Find your Trio – Bronze, Highlight, Blush
For an effortless glowy look, you need a bronzer, highlighter, and blush that complement your skin tone. Bonus points if you can find a palette that has all three in one! One of my favorite everyday products is the Urban Decay NAKED FLUSHED palette. This thing does it all! I make the "fish face" and blend a little bronzer right at my cheekbones. Then, add the highlighter right above my cheekbones and to the bridge of my nose. For days when I'm in a hurry, or need a little extra illumination, I opt for a cream highlighter like NYX Born to Glow. This highlighter is easy to blend with my fingertips and gives off the best, natural looking glow. Top the look off with a little blush at my chin and very lightly on my cheeks…and viola you've got a natural, sun kissed look! To keep my face set all day, I top this look off with a setting powder, or some setting spray.
The Finishing Touches – Lips and Lashes
A good mascara can take your look from zero to hero in no time flat. I always feel that with fuller, longer lashes, I look more awake and well rested. Now, I have rarely met a mascara I don't like, but my favorites are those that elongate my lashes, do not clump up, and get the job done with a few strokes to the lash. Some seriously amazing mascaras, that I would buy over and over again are linked below!
The Lovely Twist Approved Mascaras: Length, Zero Clump, & Easy Application
For the lips, I often opt for just a nice gloss or balm with a very light tint to it. Like I said, I like to look natural and fresh faced for my everyday makeup. I look for something that is moisturizing and isn't going to come off with every sip of coffee I guzzle.
Here are some of my go to lip colors for everyday
With a fresh face, and time time to spare I am off to slay my Monday morning. It feels great to save time in the morning with an easy makeup routine. Do you have go to products that you use for your everyday makeup look? I am always on the hunt for multi purpose products, like a highlighting and bronzing palette or a mascara that lengthens and adds volume. Comment and share some of your go to's!
*This blog contains affiliate links which means that if you click on the link and make a purchase, I will receive a small percentage. Additionally, items mentioned on this blog may have been provided free of charge. All opinions are entirely my own.*